What are the types of crystal?
There are different types of crystal for chandeliers, with their own characteristics that determine not only a different lustre and brilliance, but also a different price. In fact, depending on the type of crystal chosen, the price of the chandelier can vary considerably. We are all familiar with Swarovski crystal, but there are also other types of crystal such as Asfour and Scholer. So let's take a look at the main differences in order to make the best choice. As of 2020 Swarovski no longer produces crystal for chandeliers.
Scholer 
SCHÖLER (SCHOLER CRYSTAL® optical crystal ): good quality crystal from Austrian production. The company is keen to point out that its is an ecological product as it is used mostly glass, without the insertion of lead. Iridescent reflections and absolute brilliance characterize the Scholer crystal, which also features a wide range of colors and shapes. It is definitely one of the best crystals for value for money.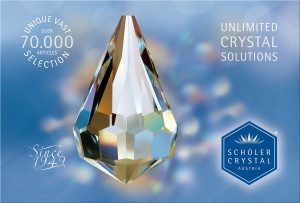 Asfour
ASFOUR (ASFOUR CRYSTAL® crystal 30% lead oxide ), Egyptian manufacture, it is a high-quality crystal.
Its glass and lead composition together with the excellent workmanship give the crystal a unique brilliance. The Asfour crystal can be found in many shades, shapes and sizes. On some pieces there is the laser-marked logo as proof of the immutability of its characteristics over time.. Before being put on sale and receiving the engraving of the brand, the crystal is in fact submitted to strict controls that ensure the absence of streaks, bubbles or variations of color, and evidence of its absolute shine. The presence of 30% lead determines the brightness of the refraction and the vivid effect of the colors of the rainbow. This type of crystal has a
Cutted Crystal
Finally we have cut crystal, a type of good quality crystal at an affordable price. It has a discrete lustre and brilliance and is available in different colours.
Swarovski Crystal
The chandelier crystal produced by Swarovski deserves a separate mention. Since 2020 the company has decided to no longer produce them.
The crystal produced by Swarovski today is mainly used in goldsmithing, as an embellishment of textiles in furniture and fashion, in fittings, and in jewellery. It is a particularly dense and pure lead crystal, worked with rigorous cutting, grinding and polishing processes.
If you still have doubts about the type of crystal to choose from or if you want to receive free crystal samples at home, send us an e-mail to  info@lucillaplace.it